Vincent has spoken all over the country at colleges, high schools, churches, conferences and more. He is available for talks and lectures surrounding a wide variety of topics of interest, including (but not limited to):
Religion, Theology, and Sexuality
Loving Like Jesus: Biblical Understandings of Unconditional Love
Principles of Nonviolence and Activism
Evangelical Understandings of Gender and Sexuality
Christian Tolerance of Homosexuality Throughout the Ages
Latin@/Chican@ Religion, Consciousness, and Sexuality
All presentations can be adjusted for length and venue. For more info, please contact booking@vincentcervantes.com
Popular Talks Include
(Trans) it
– Focuses on gender diversity, gender variance, and transgender/intersex awareness. In this interactive presentation Vincent incorporates storytelling, group activities, and hands-on instruction designed to explore and understand the gender diversity in all communities. This is a multimedia presentation, but adaptable for each group. An ideal presentation for diversity trainings, schools, and allies trainings. More information available upon request.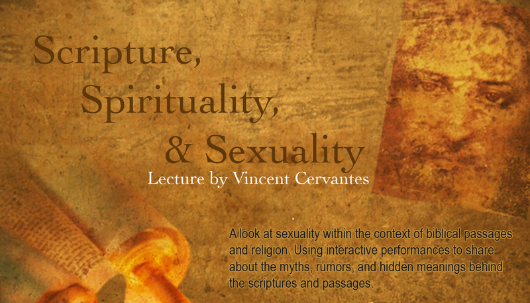 Sexuality, Scripture, & Spirituality

– Most popular lecture! Examines sexuality and queerness within the context of biblical/sacred passages and religion. This lecture combines speaking with multimedia to explore the myths, rumors, and hidden meanings behind scriptures and passages in the Jewish, Christian, and Muslim sacred texts that deal with the subjects of sexuality and queerness. Great lecture for ally trainings, churches, youth groups, and community centers, colleges and seminaries.


Bursting the Bubble: Orientation, Gender, and the Ex-Gay Movement
– An interactive lecture and workshop that introduces the basics of sexual orientation, gender diversity, and a historical, social, and cultural examination of the ex-gay movement. In this talk, Vincent uses his personal experiences as a survivor of the ex-gay movement as a springboard for critical engagement with the subjects of ex-gays, religion, and society.
Watch a brief video of Vincent telling part of his own story. In this YouTube video, Vincent offers a brief introduction to the ex-gay movement and why he chose to go ex-gay himself. Now out of the closet, as openly gay, Vincent uses his story to speak against ex-gay ministries and to reveal the harm they cause in the lives of many individuals.
In addition to talks and lectures, Vincent offers several trainings in the following areas:
LGBTQ 101
Principles of Non-Violence and Activism
Responding to Your Adversaries
Sharing Your Story
Bible Boot Camp